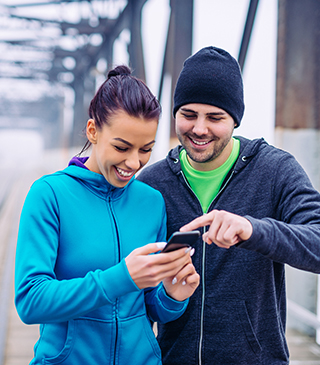 FOR COMPANIES
B2Mission is team building in a new and digital way. Use B2Mission to gather employees within the app regardless of location and branch office. This provides athletic challenges at every performance level. Everyone can participate and contribute to the team's success, whether they are running, walking, hiking or cycling. Increase the motivation in your team and strengthen your employer branding!
FOR PARTICIPANTS
Rediscover your surroundings and collect as many points as possible! In the Challenges, various tasks are waiting to be run and solved by you. In addition, you contribute to the team's success with every kilometre you cover by foot or by bike. Design your activities flexibly and keep moving!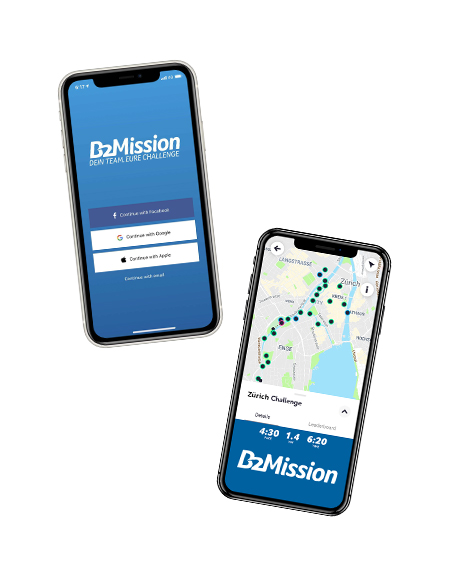 CHALLENGES
In 21 cities in Switzerland, you can take part in different Challenges. Each Challenge consists of 30 GPS Checkpoints, which are displayed in the B2Mission app.
Open the B2Mission app, press "Challenges" and choose the Challenge you want to tackle.
Start by heading to the region of your Challenge and clicking on the start button
Collect points by passing by as many of the set Checkpoints as possible within 60 minutes or by completing small tasks on the spot. Clever route planning pays off, because the number of points you get differs between Checkpoints.
A Challenge ends automatically when the time limit of 60 minutes is reached or can be ended by pressing the stop button.
You can complete a maximum of six Challenges, after which the Challenge mode is no longer available in the app. In addition to the checkpoints, the distance covered within the challenge also increases the points account. Each kilometre covered gives 300 points.
CHASES
In 21 cities throughout Switzerland, one Chase is available within the Challenges.
The Chase takes place within a particular geographical area, includes several GPS Checkpoints and can take up to a maximum of 60 minutes.
Not all the Checkpoints are shown here, though. Instead, you can always only see the next one, once you've run through each Checkpoint.
Your overall score is made up of your first 6 Challenges/Chases with each of their Checkpoints, plus 300 points per kilometre you cover.
RUN / WALK /BIKE
Open the B2Mission app, get ready and press the start button
Complete the desired distance by foot or by bike - no matter where, how long or how often.
As soon as you finished your activity, press the stop button to terminate the recording
The B2Mission app measures the distance covered and converts it into points that are automatically included in the leaderboards. For every kilometre covered by foot, 300 points are awarded. Each kilometre travelled by bike earns 100 points.
Activities can also be recorded with other devices (e.g. sports watches) and later synchronised with the B2Mission app.
The checkpoints of the Challenges & Chases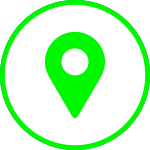 Checkpoint
The easiest type of our checkpoints are those that you just have to pass by. Run to the checkpoint and collect 100 points.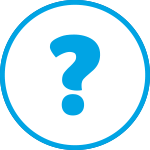 Question
Your attentive eye is required: Answer a question about your surroundings! Look around carefully and get 300 points.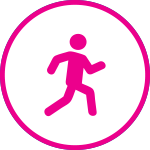 Boost
This Checkpoint gives you superpowers: All the points you collect in the next three minutes are doubled.
Fit-Checkpoint
Light physical exercises presented by Suva will replenish your training here. If you manage the given repetitions or duration, you will receive 200 points.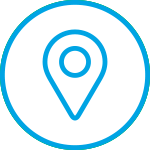 Pop-up
You will discover this checkpoint during your Challenge. It is triggered by another checkpoint. Run there quickly and get 200 points.
Rankings
The current leaderboards for all categories can always be found directly in the B2Mission app.
Did you participate in B2Mission 2021?