Active together for people in need
With B2Run, you run for a good cause. We donate one franc to the Swiss Red Cross (SRC) for every participant who registers.
No other relief organization combines such a wide variety of strengths in the health, integration and rescue sectors as the SRC, with its 24 cantonal associations and its headquarters in Bern and various other institutions. B2Run promote exercise and good health. These are topics dear to the SRC's heart. And now, the SRC is proud to be the charity partner of B2Run.

The following projects are supported by your participation in B2Run: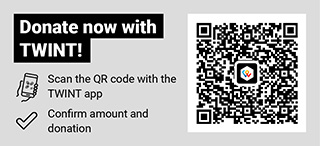 You make the difference
Support people in need quickly and easily. For example, with 35 francs you can finance an emergency aid kit for victims of disasters. Your donation makes the difference. Thank you!
Become a Charity Starter
Would you and your company like to donate an additional contribution to the SRC and be a part of a good cause? Then become a Charity Starter and, as a team captain, book the appropriate race entry for your team in the Webshop. The surcharge of CHF 5 per starting slot will be passed on in full to the SRC as a donation and will help families in Switzerland and people in need.
As a Charity Starter, your company is helping the SRC. To show the other B2Runners that your company is committed to making a difference, your company logo will be published on this website and on your B2Run displayed on an LED screen at the award ceremony as a Charity Starter.
These are the 2022 Charity Starters - THANK YOU for your support!