B2Run 100% climate-neutral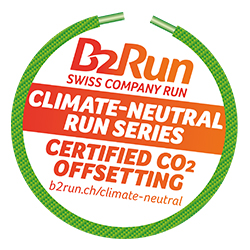 B2Run is committed to climate protection
As of 2022, the B2Run running series is 100% climate-neutral. Running is essentially an environmentally friendly sport. However, if you add up the fuel, electricity, and heat consumption when organising the running event and then getting there, this quickly results in high CO2 emissions. That's why B2Run is taking action and trying to keep the resulting environmental pollution as low as possible right from the get-go, and compensate for the unavoidable CO2 emissions. In cooperation with our partner, myclimate, we manage to achieve an ecological balance for the entire running series. We achieve this with two pillars: Reducing CO2 emissions and compensating for the unavoidable CO2. The non-profit climate protection organisation, myclimate, is carrying out the evaluation and analysis of the CO2 emissions of the entire running series.
How we plan to decrease CO2 emissions:
Starterbags
The starterbags are now being manufactured by bb trading from SEAQUAL® YARN. SEAQUAL® YARN is a high-quality 100% recycled polyester yarn containing SEAQUAL® MARINE PLASTIC made by the SEAQUAL INITIATIVE. SEAQUAL® MARINE PLASTIC is a new, sustainable, fully traceable raw material made from marine waste or, in some cases, discarded fishing nets or other plastic used in aquaculture (e.g. mussel and oyster farming). The SEAQUAL INITIATIVE has set itself the task of reusing all types of plastic found in the ocean.
When it comes to the content of your starterbag, it's also important to us that the goodies from our partners accompany you before and after B2Run. That's why we strive to avoid using paper for the content as much as possible.
Palm leaf disposable tableware
We serve our dinner options in disposable palm leaf tableware. This is a purely natural product that is 100% compostable.
Waste separation
We can't totally avoid PET or aluminium cans at our events. For environmentally friendly waste disposal, we separate our waste at our events. For this reason, blue PET and yellow aluminium collection containers are set up all over the event premises. In addition, cardboard is disposed of separately. There are also normal waste containers on the premises.
Reduction of print material
We provide standard and customisable posters to motivate employees. We only offer these in a digital format, to reduce the use of paper.